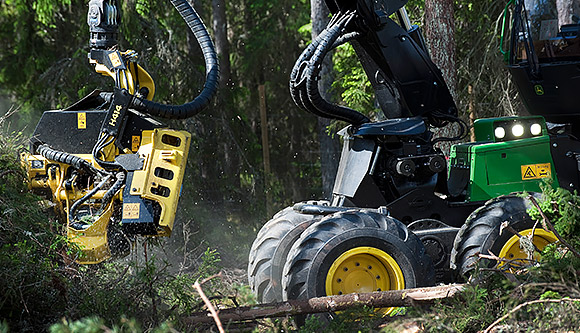 Top products come from thorough knowledge of usage conditions
Nokian Heavy Tyres Ltd, a manufacturer of high-quality special tyres, is a part of the Nokian Tyres Group. We focus on narrow product segments, which has made us pioneers in special tyres – particularly in the field of forestry, where we have a global market share of 30 %.
In addition to forestry tyres, our core products include tyres for harbour and mining, agriculture and other heavy uses, such as earthmoving and road maintenance. Nearly all of the products are manufactured at our plant in Nokia, Finland.
Real-world-tested partner
Nokian-branded tyres are known for their high quality, which translates to long life and flexibility under demanding conditions. The long-term co-operation with leading machine manufacturers has generated solid know-how and a thorough understanding of the customers' needs.
Apart from the products, the comprehensive partnership is also tested in the field. We are where our customers are – in the forest, on the field, at the harbour – and we continuously develop our service concept to meet our customers' needs.
Tailored service concept
Customer needs, tailored services and interaction are the key terms in our operating policies. We listen to our customers and respond to their needs flexibly and rapidly. New innovations stem from the field, so we keep working dialogues with the end users, machine manufacturers and distributors.
We master the entire delivery chain. We help our customer to find a rim supplier that meets their requirements and make sure that the tyre delivery process goes smoothly.
After the delivery, our technical customer service takes its turn in our service chain. Partners and local tyre outlets, such as the Vianor tyre chain, handle the replacement and maintenance of second-hand wheel solutions.
Overall economies with efficient solutions
Nokian heavy tyres are sold in both the original equipment and replacement markets – wherever people need heavy tyres for demanding conditions.
Major machine manufacturers develop and test their products on our home fields, which enables fruitful co-operation. Products that are proven to work in Nordic conditions impress their users all over the world. Nearly half of our sales is generated from manufacturer installed tyres.
Customers value functional, cost-efficient tyres. Economic hourly usage costs and high utilisation rates of tyres and machines outweigh low purchasing prices.
Trend-sensitive business
The pricing competition in the tyre market is fierce. The demand for forestry tyres has been boosted by the mechanisation of harvesting around the world, making them our best-selling items for decades. Over the past few years, Nokian Heavy Tyres has made continuous investments in other product segments, as well, and the share of agricultural, mining and harbour tyres in our total sales is now increasing.
Nokian agricultural tyres are gentle on the environment. Our harbour and mining tyres are designed to withstand extreme wear and tear. These tyres are used, for example, in reach stackers, straddle carriers, RTG cranes, mine loaders and drill rigs and supporting machinery to mines.
Values that guide and support the strategy
Entrepreneurship
We are quick and brave. We set ambitious objectives and perform our work with persistence and perseverance. We are dynamic and punctual, and we always make customer satisfaction our first priority.
Inventiveness
We have the skill to survive and excel, even in the most challenging circumstances. Our competence is based on creativity and inquisitiveness, and the nerve to question the status quo. We are driven by a will to learn, develop and create something new.
Team spirit
We work in an atmosphere of genuine joy and action. We work as a team, relying on each other and supporting each other, offering constructive feedback when needed. We embrace differences, and we also encourage our team members to individually pursue winning performances.